New Civilian-Legal UZI: The Century Arms UC9
Posted on August 17, 2011 at 5:54pm

Century Arms International has introduced a new civilian-legal, semi-automatic version of the iconic UZI submachine gun. The Century Arms UC9 has a 19.8" barrel to comply with federal restrictions on minimum barrel length, is made from authentic UZI parts, and is assembled in the United States. The original open-bolt operating system has been replaced with a closed bolt in order to comply with the 1986 restrictions on full-auto firearms and guns which are easily converted to full-auto operation.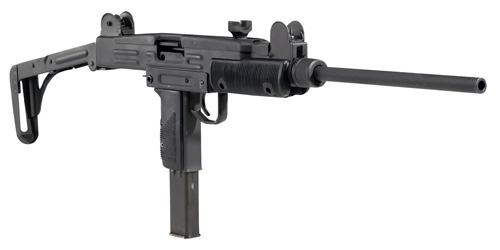 Gun Digest has published an extensive review on the Century Arms UC9:
Century Arms International has introduced its own variant of the UZI semi-auto carbine for sale here, the UC9.

The UC-9 is made from an assortment of genuine UZI parts and assembled here in the U.S. It has the same 19.8 long barrel of the previously imported model, and like it, is semi-automatic only, having been converted to fire from a closed bolt from the original open bolt of the full auto capable original.

At 9 lbs., the UC-9 is no lightweight, but in return you get a mostly steel weapon that makes handling even the hottest 9mm rounds an effortless task-yet the gun is very compact at only 24 inches overall with the stock folded, and a mere 31.5 inches with the stock extended.

(Continued at GunDigest.com)
The Century Arms UC9 is priced around $800 and is available now.