LAR Grizzly T-50 single-shot .50 BMG bullpup
Posted on October 18, 2011 at 12:42am
LAR Manufacturing has introduced a new .50-caliber rifle that is designed to be fired from the shoulder. The Grizzly T-50 is a single-shot bullpup rifle chambered for the massive .50 BMG cartridge. Available barrel lengths are 32" - 36", and the unloaded weight of the 32"-barreled version is 30.4 pounds.
Because of the bullpup design, which places the action behind the trigger, the overall length of the rifle is only 41" - 45" (depending on barrel length). Recoil is advertised to be similar to that of a 12-gauge shotgun.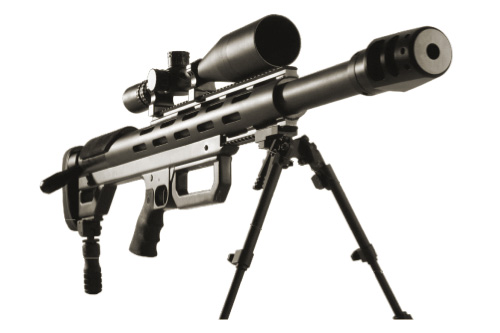 From the LAR Manufacturing website:
The Grizzly T-50 is our latest tactical rifle addition that leaves its competition in the dust. Its, powerful .50 caliber BMG round blows its targets to pieces while its careful design absorbs most of the recoil. Most say it kicks no more than a 12 gauge shotgun. The Grizzly T-50 was created for accuracy, and the match grade chamber provides unsurpassed accuracy by using a bullet that was designed to shoot straight and far. This single shot, breech loading rifle features a bull pup design with all steel construction, and removalbe aluminum rails to provide a solid, flexible, dependable, accurate firearm.
Specifications
Caliber: .50 BMG
Action: Single-shot, bolt-action
Receiver: 4140 alloy steel, heat treated
Bolt: 4340 alloy steel, heat treated
Overall Length: 41" - 45.5"
Barrel Length: 32" - 36"
Weight: 30.4 lbs
Rifling: Right-hand, 1 in 15"
MSRP: $3200